About Us
Gondola Webworks was established in late 1998 with a view to writing web pages for small businesses, non-profit organizations and private individuals, for a competitive price.

Since that time, the company has grown to include web hosting, e-commerce, newsletters, and ad graphic creation as part of its portfolio of Internet services.

We also assist our clients in registering their own domain names at the best going rates, with no additional surcharge. This means that if you were thinking of getting your own "dot com" we can help set that up for you in a snap.

Gondola Webworks provides a complete web presence solution for its clients, who do not have to know anything other than they need to have a spot on the Internet, they don't want the hassle, and they don't want to spend a lot of money.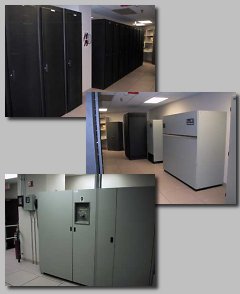 Our Hosting Capability

The data centre we use is located in Orlando, Florida, and has the following specifications:
100% Cisco and Linux powered network.

Directly owned and maintained -- no third party involvement. This means technicians are on hand 24/7 to address any problems our clients might have.

Equipment: All routers and switches are made by Cisco. Cisco is a tried and true manufacturer, so Cisco is our only choice for all network hardware.

Connectivity: We are connected to TIER 1 providers straight into our data center and your servers are the first in line to these unrestrained highways. We do not use a single carrier nor do we use cheap cogent bandwidth. We are connected to the Level3 Dual Gigabit Internet Backbone and the Time Warner Telecom Gigabit Internet Backbone. In addition, the data center uses multiple third-party carriers, Cisco Gigabit switch routers, and has a 32 gigabit bandwidth network capacity.

Power: The power systems in the data center are designed to run uninterrupted even in the unlikely event of a total power outage. All servers are fed with conditioned UPS (Uninterruptible Power Supply) power that will run if utility power fails. The UPS power subsystem is "N+1" redundant with instantaneous fail over in case the primary UPS fails.

Security: Access to the data center floors is restricted to those authorized. Complete access to our floor is only permitted by allowance from the security guards at the front desk, around the clock. You can be safe in the knowledge that only a handful of highly trained, level-three technicians will be allowed within close physical proximity to your server.

Environment: The data center's HVAC (Heating and Ventilation Air Conditioning) system is "N+1" redundant to ensure that - even in the event of an entire HVAC system failure - there is a duplicate system on standby to take over. An advanced fire-suppression system is in place to prevent any fire from spreading - in the unlikely event that one could start. We have 4 Data Aire air conditioning units that provide optimal conditions for equipment operations.

Monitoring: Data centre technical staff work around the clock to ensure that the network is operating at the most optimum state. Collected statistics are continually reviewed with very precise care and attention. Traffic trends are closely monitored so that the proper routing adjustments and bandwidth additions can be made immediately.